Hanging lamps in the Petite Friture Vertigo style - unique inspirations
Hanging lamps in the Petite Friture Vertigo style - unique inspirations
The world-famous designer Vertigo pendant lamp from Petite Friture is a real bestseller, whose ownership will be brought closer by Inspirowane.eu the manufacturer of proprietary lamps. We present a lamp whose elegant appearance does not diverge from inspiration, and is affordable for a much larger number of consumers. The lightness and universality of the design makes it a great addition to many different interiors.
Vertigo type lamp for all premises
The design of the hat-like lamp is adapted to interiors of various sizes and purposes - it will perfectly complement the artistic decor of the apartment or bedroom, and will also enrich the atmosphere of public spaces such as museum rooms, shopping malls and luxury hotels. The light, skeletal structure of the rim with ribbons around the shade means the lamp does not cover the ceiling and provides comfortable lighting power.
A wide selection of variants
Our designer Vertigo pendant lamp is available in various sizes and colours. Gold and white models are characterized by exceptional elegance; in turn, the classic, black lamp will match any decor. All available lamp variants can be viewed in our online shop Inspirowane.eu in the Petite Friture inspired lamps category.
We also make lamps to order, in accordance with the personal wishes regarding the colour of the model. This is the best option for consumers who want to adapt the lamp to a carefully designed interior. Custom lighting guarantees the individuality and uniqueness of the accessory.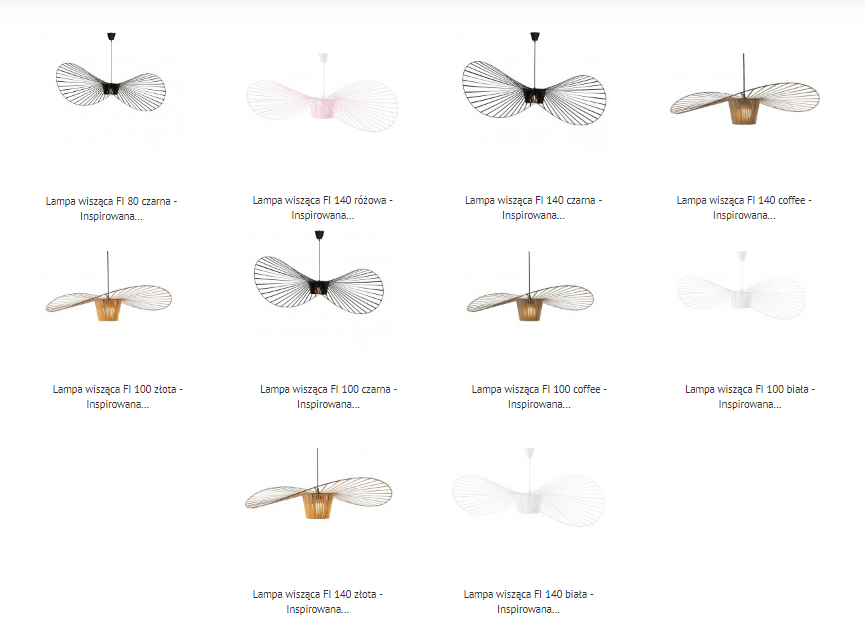 What makes Inspirowane.eu lamps so unique?
We make sure that our products stand out for their original design and affordable prices. We want consumers with different budgets to be able to embellish their homes and public spaces with designer furniture. The possibility of placing an individual order means that our offer is even wider than presented on the website.
What if you haven't found the product you're looking for on our site? Simply contact us and we will make it for you.
Contact
Tel: +48 22 350 68 87
Mail: [email protected]