Designer swivel armchair Fritz Hansen Egg - choose an original style!
Designer swivel armchair Fritz Hansen Egg - choose an original style!
The designer armchair is a proven way for an attractive arrangement!
Can one swivel armchair change the entire interior design? The EGG model leaves no doubt! You can easily integrate it into even the most boring arrangement and instantly revive the entire space. The modern design of the furniture can go hand in hand with remarkable colours. We recommend juicy coloured solutions for lovers of unique solutions. Perhaps it's better to break the monochrome arrangement with an interesting design? In this regard, it is worth paying attention to the designer model in black and white hounds tooth. This timeless design can easily be introduced into a classic interior.
Comfortable, inspired armchairs - what is worth choosing?
The original design is combined with comfort in EGG furniture. Our offer is very diverse and inspired armchairs are also available in a children's version. It is worth choosing a model with a footrest in the same style for the living room or bedroom. The proposed furniture is distinguished by additional benefits, such as the presence of a rotating mechanism with a rocking function, the possibility of locking in a tilted or vertical position and the ergonomic shape of the backrest.
Designer, modern furniture inspired by the most interesting solutions is a proven way to create an original arrangement. We welcome you to familiarize yourself with the full range of colours and designs.
What if you haven't found the product you're looking for on our site? Simply contact us and we will make it for you.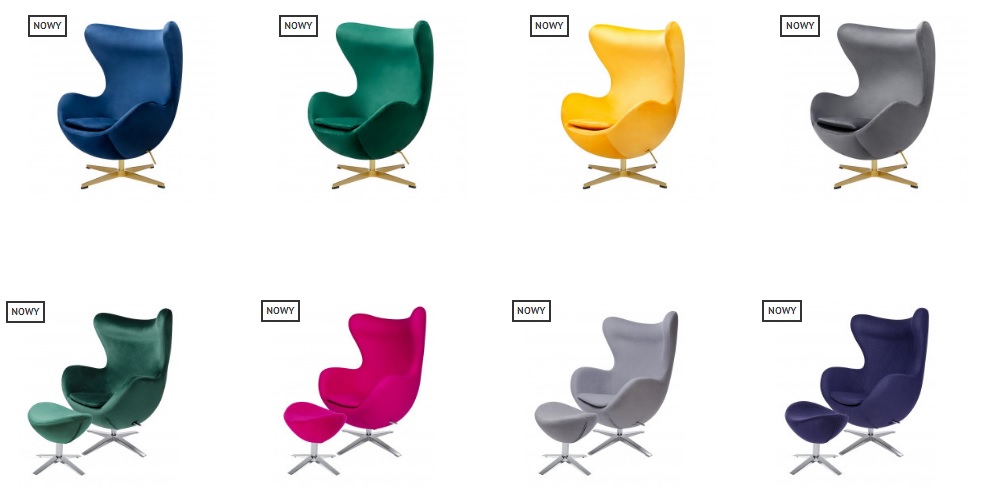 Contact
Tel: +48 22 350 68 87
Mail: [email protected]